Delicacy of artisan ice cream, Caldo Freddo owes its name to the sublime mix of cold (ice cream) and hot (dark chocolate that covers the composition) ingredients. Enriched with sponge cake soaked in liqueur and whipped cream, it is usually served in a small lemmo, the terracotta container used for Trapani cous cous.
Prepared for the Christmas holidays, these small sweet doughnuts have flour and potato as their main ingredients. Of Arab origin, they should be consumed just fried, still hot, sprinkled with plenty of sugar and cinnamon. The name's origin – which is both Arabic and Latin, meaning sponge, is emblematic, just like the soft consistency and […]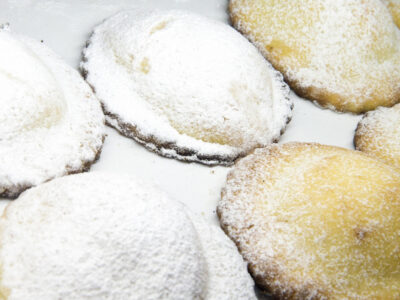 These sweet round pastries filled with custard owe their origins to the cloistered nuns of the of San Carlo and Santa Teresa convents. An integral part of a visit to Erice, they should be consumed while still hot.
Spokesman of the territory from which they originate, convent pastries are prepared with typical local ingredients (almonds, citrons, lemons, oranges, honey). Made according to the old recipes of the cloistered nuns of the San Carlo and Santa Teresa convents, they are an essential experience for anyone visiting Erice. Representative of the convent confectionery tradition, Mustazzoli […]
Very tasty, Sciavata pizza is made exclusively from local products, principally pecorino cheese, olive oil and oregano. A peasant dish of ancient origins, there is also a sweet version sprinkled with sugar.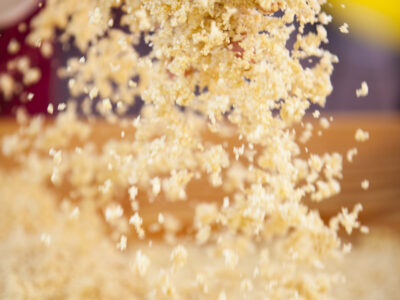 Of Arab origin, Trapani's version (locally called 'cùscusu') is strictly made with fish. Its preparation is a ritual that has been handed down from mother to daughter and requires the use of typical pots and bowls. Made with semolina and water mixed in a circular motion (the famous incocciata), the couscous granules are then steamed […]
Obtained from vineyards located between 200 and 650 m. on the sea level scattered in the so-called 'agro ericino' (the hilly area at the foot of Mount Erice), these wines owe their organoleptic qualities to the soil and climatic conditions of the area, a rare combination of altitude and proximity to the sea. Inzolia, Catarratto, […]
'Rianata' Pizza owes its name to oregano (rìanu in the Trapani area), one of the key ingredients of this very tasty pizza made from typical local products. Flavoured with plenty of garlic, anchovies and pecorino cheese, this pizza is thick and soft and garnished with diced tomatoes rather than the traditional tomato sauce.
Tuna processing according to local tradition-  where no part of this generous fish is thrown away, goes back to the ancient use of tuna fishing nets along the coast of Trapani. From the eggs to the buzzonaglia, from the fillets to the heart from the lungs to the seminal pouch; everything is worked by hand […]
An exquisite species, Mediterranean Bluefin Tuna is a regular visitor along the coast of Trapani in the months of May and June. Until a few years ago it was intercepted by "tonnara"-type traps, a complex system of nets deployed not far from the coast to stop the tuna on its route from the Atlantic ocean […]
