Salt and its declinations Tour – 3 days
Arrival at the airport and individual transfer to the Stagnone area for a free visit to the Nature Reserve, a place of extraordinary beauty, where, in addition to the exceptional natural landscape, you can appreciate the windmills typical of the Trapani coast.
An obligatory stop in the Reserve is a guided visit to the Ettore e Infersa Mill, a step back in time to retrace the history of the salt pans and the ancient culture of salt extraction and processing. The visit will provide an in-depth look at all the characteristics of the mill and details of how the gears work.
This will be followed by a thematic tasting, during which visitors will be able to taste some unusual varieties of salt, both pure and aromatised, in combination with typical Sicilian products such as fresh bread, olive oil, cherry tomatoes, fresh seasonal fruit and a refreshingly freshly squeezed lemon juice.
Sicilian dinner at sunset at the Assud Mozia restaurant.
Free overnight stay in Trapani.
Transfer to the port of Trapani for an individual visit of the fishing port, the fish market and the historic city centre.
Lunch at the StraVento restaurant.
After lunch, guided bike excursion of the Nature Reserve, from the salt pans of Trapani to the salt pans of Nubia along the bike path. On arrival in Nubia, guided visit to the Nubia Salt Museum.
Free dinner; recommended end to the day at the Trattoria del sale inside the Nature Reserve with spectacular views of the Egadi Islands.
Free overnight stay in Trapani.
Trasferimento individuale a Marsala, città di storia, di vino e di mare. Visita libera del centro storico di Marsala con i suoi monumenti e le sue chiese e poi trasferimento presso le storiche Cantine Florio, costruite in pietra di tufo da Vincenzo Florio nel 1832, fra le più antiche della Sicilia e note per la produzione del vino Marsala. A seguire degustazione di vino Marsala accompagnato da prodotti locali. Qui negli storici locali della casa vinicola siciliana si producono infatti ottimi vini bianchi, rossi e grandiosi liquorosi, come il nobile vino doc Marsala.
Pranzo presso il ristorante Ciacco Putia, sempre a Marsala.
Nel pomeriggio visita guidata con degustazione di formaggi in abbinamento ai vini della zona presso il caseificio Impiccichè, che si trova nella campagna Marsalese all'interno di una cava di tufo.
Rientro individuale verso l'aeroporto.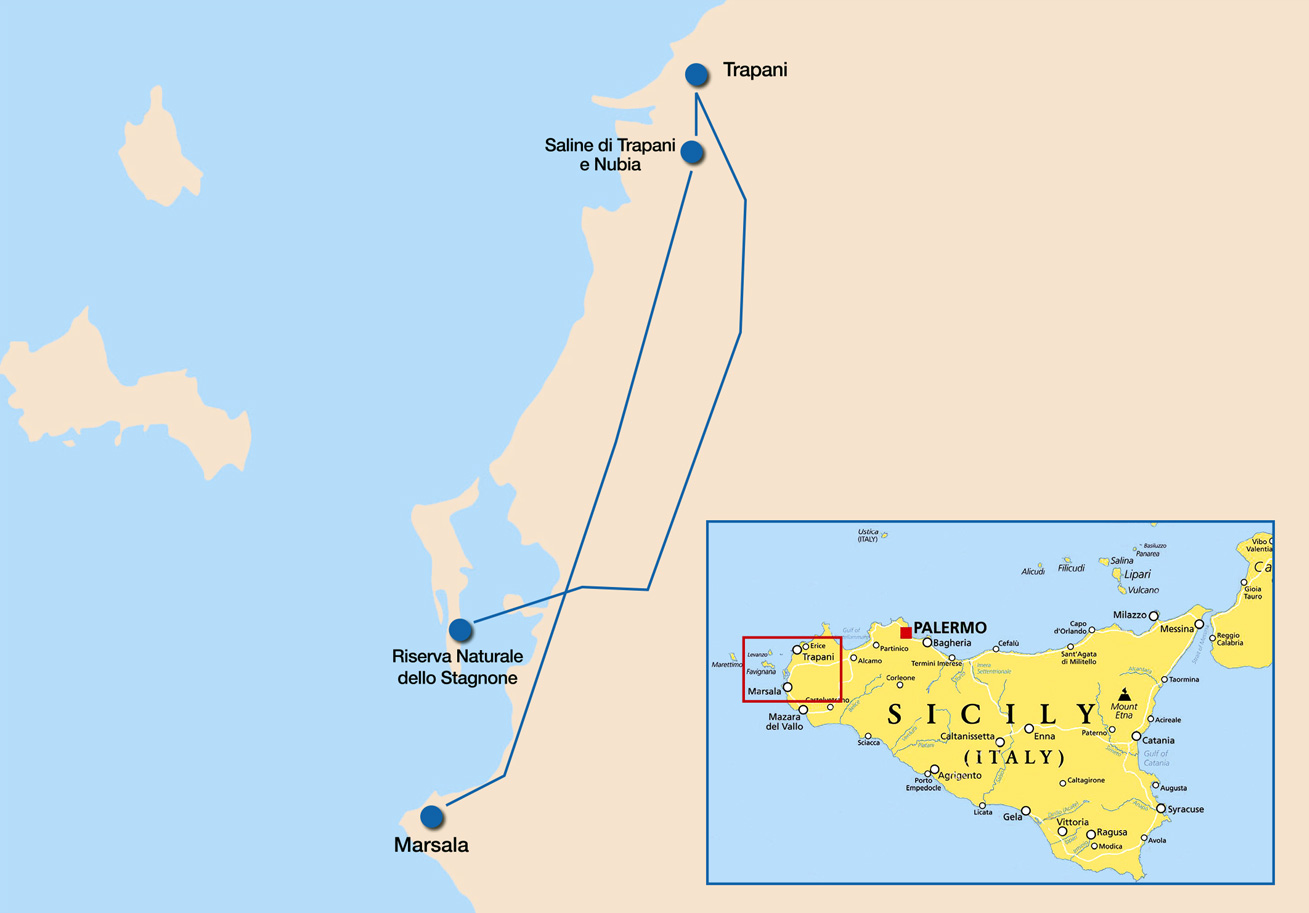 